MyGroups. Overview

---
Users may organize their own groups for broadcast messaging and file exchange with other users. Those groups are called MyGroups and created directly from IM client apps. In comparison with regular messaging groups that are organized on the communication server, MyGroups cannot be changed from the Management Console. That type of groups are deleted by their owners only.

The Active list view displays enabled MyGroups created by users. Once MyGroup is deleted by it's owner it will be marked as deleted and renamed according to settings on the IM server with keeping it's conversation log and file transfer archive. Otherwise MyGroups can be deleted permanently including their history archive.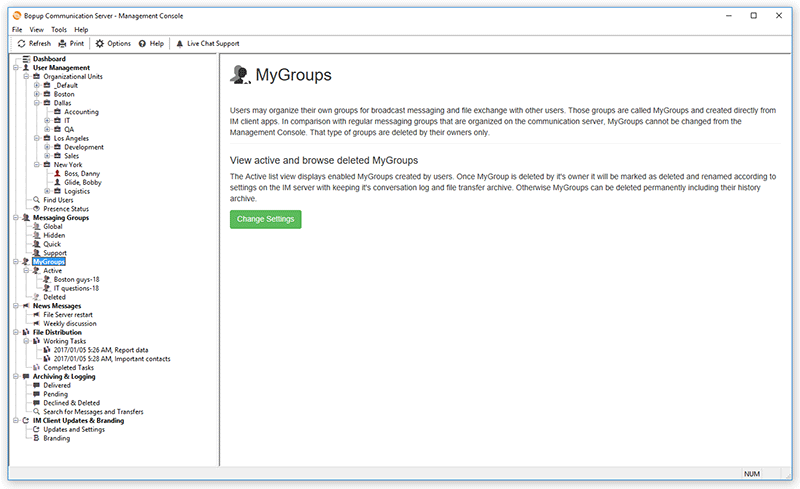 MyGroups section
Select the MyGroups item in the tree to switch to the MyGroups view and then expand Active or Deleted lists to see currently enabled or deleted groups created by users.

MyGroups list
The result list displays the group name, its description, the number of currently assigned users, group owner and group creation date. If the group is deleted then Deletion date is also shown in the list. Select and double-click a MyGroup to switch to the MyGroup profile page.

In order to meet the criteria with unique MyGroup name and avoid duplicates created by users each newly created MyGroup name is appended with it's owner's id. That id is a digit number which represents an owner's user account in the server database. Thus MyGroups names are always unique even they have been initially created with the same name.


| | |
| --- | --- |
| | MyGroups can be created only by users with Administrator and Power User account types. |
Once
MyGroup
is deleted by it's owner from the messenger client it can be deleted permanently or just marked as inactive, renamed and then moved to the
Deleted
list according the server settings. When
MyGroup
is moved to the
Deleted
list it is also renamed by appending deletion date to it's name.